Record Clean-Up
The Law Offices of William C. Makler, P.C., Santa Barbara criminal expungement lawyer, regularly and effectively assists former and new clients with criminal record clean-up. There are a variety of ways through which you MAY be able to reduce the negative effects of many arrests, criminal convictions, dismissals pursuant to diversion and juvenile adjudications. If you plan on applying for a job, a promotion, a professional license, a travel visa or for immigration benefits, you SHOULD worry about how a mistake of your past may get in your way. It makes abundant good sense to get a free consultation from a qualified law firm to determine your options and eligibility for various forms of post arrest and post-adjudication relief.
Among the clean-up remedies is the remedy commonly known as expungement. Only actual convictions can be expunged. Other remedies include the reduction of a felony to a misdemeanor, plea withdrawal, prop 47 re-sentencings, prop 64 (marijuana) resentencing/redesignation/dismissal, certificates of rehabilitation, pardons, relief for non-citizens and the sealing of a juvenile record. As of 2018, people whose cases are dismissed or rejected for prosecution can take advantage of a motion to seal their arrest records usually after the statute of limitations runs.  This is a nuanced area of law so don't suppose that you are not eligible for this relief until you have spoken with a qualified lawyer.
For the most part, these remedies are not available to individuals currently on probation.  Call us today to arrange a free evaluation of whether you may be a good candidate for early termination of probation.
We offer a free consultation.  Call us anytime.  All such contacts are confidential.
In California, arrests are generally rendered detentions by way of any subsequent failure by authorities to pursue the charges in court. In those instances, the arresting agency is required by law to issue a "certificate of detention only" and to see to it that the word "arrest" is purged from any records of the incident. Additionally, some arrest records may be "sealed and destroyed" by way of a remedy known as a "finding of factual innocence". As mentioned above, yet another remedy, new in 2018, is a petition to seal law enforcement and court records of any arrest or referral for prosecution that never resulted in a conviction.
Factual innocence is a remedy that can be sought in unusual circumstances. The remedy is the sealing and destruction of all of the arrest records.  To find out if a case that resolved in your favor with a dismissal, case rejection or a verdict not guilty after trial might qualify for this very special remedy, contact a lawyer who has successfully achieved this result for his clients.  We offer free consultations.
Each of these remedies function differently and may or may not be a applicable to the conviction, arrest, or adjudication at hand, depending on timing, what class of crime, the relative strength of the evidence and many other factors. Moreover, it is important to recognize that none of these remedies function like a "time machine" to enable you to go back in history and undo something which, fundamentally, cannot be undone. However, these remedies can very often allow you to move ahead with your life (e.g., career plans, immigration applications, travel to Canada) without being unduly haunted a past mistake or mishap.
To find out more about what, if any, of these remedies you may be eligible for, you may call Santa Barbara criminal expungement lawyer William C. Makler at (805) 892-4922 for a free, no obligation, consultation.  Or, if you prefer it, you may fill in your contact information and a description of what criminal legal problem you may need help with in the contact form to the right and we will get in touch with you as soon as possible… frequently within a few minutes.  Our offices are conveniently located near the main Santa Barbara County Superior Court building (Anacapa Division).
Bill Makler Featured in the Santa Barbara News-Press December 3, 2013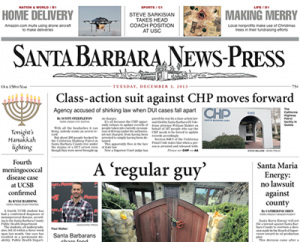 William C. Makler was recognized in the Santa Barbara News-Press for his work in forcing the CHP to follow their statutory obligations to "clear" the records of people who they arrested but where prosecution was declined.
To read the full text of the article, click here.